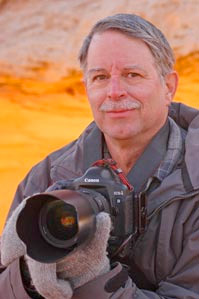 There are few things I find more captivating than photography. Since my parents placed an old box camera in my hands years ago, I've enjoyed traveling around the country photographing nature and wildlife - from the wide-open landscapes of the West to close-ups showing the amazing and intricate works of God. It is the light that is key to a breath-taking photograph and I will often wait for hours to capture just the right moment in time. Carrying a camera with me forces me to slow down and really "see" nature as God intended.
I'm inspired by color - sometimes bold - sometimes subtle. Sunrise and sunset are my favorite times because tonal values are softer and more delicate. It's also a more peaceful time for contemplation. In recent years, I've been leaning towards the more abstract - a more daring journey - sometimes using extreme close-up techniques or sometimes a soft and delicate feel or a feeling of movement, depicting the energy of nature.
While I'm largely self-taught, I've been influenced over time by such greats as Ansel Adams, Eliot Porter, and more recently, Galen Rowell and Freeman Patterson. However, I feel the basic ability to "see the picture" is a gift from God. I often find myself placed at just the right place and time to capture the beauty and delicate balance of the natural world. My goal is to communicate this through my images as I'm led by our Creator to find intimate, vibrant or dynamic scenery throughout Colorado and the West. If I can create an image that engages the viewer - taking them alongside me in my journey as a photographer and revealing God's natural beauty - then my goal has been achieved.
In addition to creating photographs, my passion lies in sharing my images and photographic techniques with others through my digital photography seminars and photo tours, something I've been doing for over ten years. I love it when one of my students spends an hour in the field concentration on, and photographing, just a single subject. That's when I know they "get it" and I'm wrapped in a feeling of satisfaction.
Award-winning photographer, Kenneth Wyatt has been photographing nature, wildlife and travel locations for over 35 years. He has written and photographed articles about photography, and other subjects, for numerous technical and hobby magazines, along with newspapers and Web-based electronic magazines. For over 10 years, he has provided seminars on subjects including nature photography, digital photography, digital workflow, using Adobe Photoshop and has led photo tours around Colorado and the West.
The File
: Over 100,000 35mm transparencies and digital images. Gradually converting top-selling transparency images to high-resolution digital files for quick delivery.
Natural History/Travel
: Diverse file of nature and its environment, including landscapes, seascapes, flowering and non-flowering plants, insects, large and small mammals, reptiles, and graphic designs. Images range from macro to telephoto.
Specialties
: All types of natural history, sports, commercial and general travel; specializing in architectural photography, western landscapes, wildflowers and Colorado wildlife, scenics, motorsports and football.
Geographic Areas
: Many U.S. regions, including Alaska, Hawaii and Baja California. Most western national parks and wilderness areas. Countries/Cities include New Zealand, Australia, Germany, Scotland, Switzerland, and Paris. Improved coverage of Hawaii, Malaysia and Singapore were recently added.
Credits
: Kenneth has written and illustrated countless technical magazine articles on various areas of electronics and computers. He also shoots feature photos and sports for his local newspaper; one on local wildflowers, winning first place in a statewide CPA competition (1999). Won statewide award from CPA for "best photo essay" for an article on Eleven Mile Canyon (2001). Won third place from CPA in the category "best news photo" of the Hayman Fire (2003). Published in several nature and travel magazines; the latest being in NaturePhotographers.net, The Nature Conservancy magazine, Outdoor Photographer, the French motorcycle magazine, "Moto" and Backpacker Magazine.
He also does corporate product photography for several well-known engineering firms and provides nature and real estate imagery for several local companies and organizations. Several of his nature prints have sold locally and via the Internet. His prints on canvas are displayed at the Seven Arrows Gallery in Woodland Park, CO.
Kenneth is a member of the North American Nature Photography Association (NANPA), the Colorado Press Association (CPA), the National Press Photographer's Association (NPPA) and the Woodland Park Chamber of Commerce.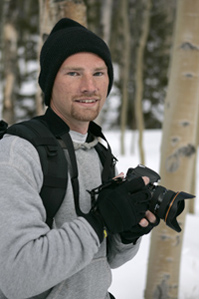 Photographer Adam Lechnir has been photographing nature and wildlife for 9 years. He has had publications in the Courier View, the local newspaper of Teller County and currently serves as an associate instructor for Kenneth Wyatt Photography".
The File
: Over 10,000 film and digital images.
Natural History/Travel
: Diverse file of nature and wildlife including landscape, wildflowers, plant life, insects, mammals, reptiles and birds. Images range from Macro to Telephoto.
Specialties
: All types of natural history, sports and general travel; specializing in western landscapes, wildflowers and Colorado wildlife scenics, motorsports and football.
Geographic Areas
: Many national parks and wilderness areas, states including Colorado, Utah, Kansas, Missouri, Minnesota, Nebraska, Illinois and Mississippi.
Credits
: Adam has shot feature photos for his local paper and has sold many of his nature and wildlife prints in the surrounding area.